No waiting at Astro Blaster. We came out of it and went right back in to ride it again.
No waiting at Pirates of the Carribean. The updated improvements were well done. No more "Hoho, hoho, a pirate's life for me…"
15 minutes wait at Indian Jones. Too bad we didn't want to go on it. It's too scary and jerky for Amy. It hurt my neck last time I was there.
5 minutes wait at Autopia. We went on it twice.
5 minutes wait at Splash Mountain. Didn't go on that, nor Space Mountain, nor the Matterhorn, all a historical 15 minute wait only. We wasted the only opportunity we would ever go on those rides. But Amy and I can't stomach the roller coasters. Well, I would've done Matterhorn.
This was two Fridays ago when Mike, Amy and I went to Disneyland. This is our annual trip to watch Audrey march in the Disneyland Parade with Walnut High School band. We've done this every year for 4 years. This is the last year we will be able to see her march in a parade at Disneyland! It is too sad…
But God gave us a perfect day. The weather was a near perfect 70F. We bundled up in the evening, but it wasn't that cold.
The only disappointment was the fireworks were cancelled "due to winds." I didn't feel any wind.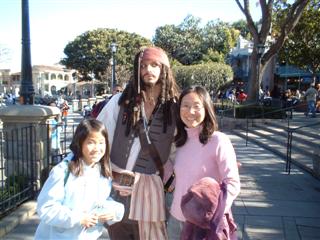 Among our many highlights of the day: up close and personal with Captain Jack Sparrow.
One Response to "Believe it or not"
Stuff That Matters In Life » Blog Archive » Inaccurate weather prediction worked in my favor Says:
January 27th, 2008 at 7:17 pm

[…] no waiting to get on the Pirates of the Carribean ride, walking right into Astro Blaster, and no lines in the […]
Leave a Reply