Saturday, 7/9
This is our first full day in Taiwan. I slept maybe 5 hours with the jet lag, but felt rested.
First thing we did was buy an MRT card loaded with enough credits for rides for our entire time in Taipei. I love the MRT, so efficient, so clean, so convenient, so easy to navigate even without knowing Chinese. Since E was just here in May, we didn't want him to go through all the same places again with us. He's been to Taipei 101, and we're not crazy about going.
Our day was spent at a toy festival, which is more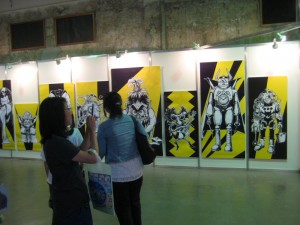 like a very small comic convention or like Frank and Sons selling hobby toys, and lots of walking around Taipei. Lunched at a food court in a mall, there are so many choices, all good, relatively inexpensive.
In the evening, we went to Shilin Night Market. We followed the way to the food stands, found it too chaotic and messy to eat there, and thought that was it for Shilin. On our way back to the MRT we saw another road, decided to take that, and it landed us in the real Shilin with billions of shops and zillions of people, literally shoulder to shoulder. This is what we expected, and it was exciting. We were hoping to buy stuff, but being that we are not real shoppers, we didn't find anything that we wanted to buy. None of the cute and cheap stuff we hoped to see in Taiwan
were here.
I wish I can remember more of what we did. But I guess the details don't matter as much as the general memory of having lots of fun, no complaints, and learning to like another culture.
Leave a Reply