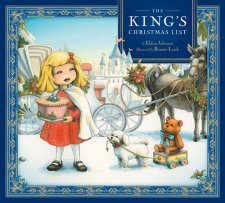 The King's Christmas List is a cute children's book written by Eldon Johnson. It's a hardback beautifully illustrated by Bonnie Leick. I would consider this a gift book appropriate for children under 10 years old, reading this book with their parents, snuggled under covers with a cup of hot chocolate on a cool Christmasy day.
The story begins with little Emma receiving a magical invitation to the King's birthday party. On the way to the party, Emma encounters opportunities to reveal her true heart of compassion and learns to give the kind of presents to the King that pleases him.
This simple story illustrates compassion and sacrifice in a way that children can relate to.  The end of the book shows how we can give to World Vision and Blood:Water Mission. It's a good book to teach children Biblical values.
Disclosure:Â  Thomas Nelson provided me with a complimentary copy of this book for this review. Opinions are entirely my own.
Leave a Reply