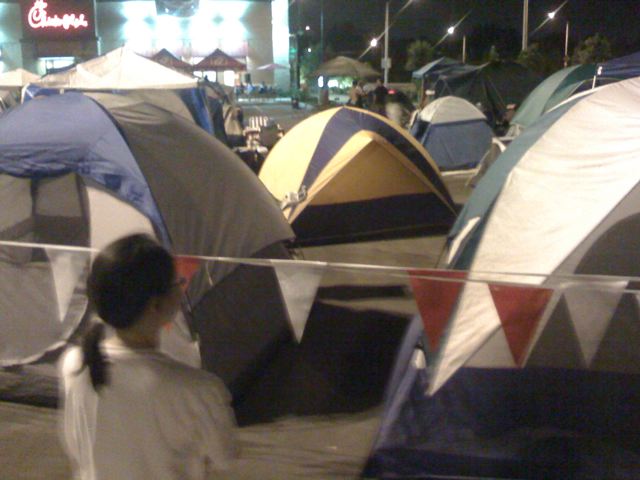 It's bigger than Black Friday.
A Chick-Fil-A is opening 1 mile from my house tomorrow, and at every Chick-Fil-A grand opening, they offer the first 100 customers 52 Chick-Fil-A meals.
I wouldn't mind a free chicken sandwich a week for a  year.
Would you camp 24 hours for 52 free Chick-Fil-A meals?
The grand opening is 6am tomorrow. At 10:30pm tonight, we went to check out the action in the parking lot.
Some people we talked to said they came from San Diego and Victorville. They got here at 10:30am, and they are numbered 104 and 105. Awww….they're not going to get the 52 free meals. But the store said there will be some raffles for those over 100.
This family told us this is one of the most popular sites. They've been to other grand openings as late at 2pm and was number 40. This is the first time they've not been able to make it within the first 100.
But then again, this is a warm summer night, and they said they've been to others in the winter.
People got their tents, their air mattresses, their beach chairs, kids playing Four-Square, adults playing cards, watching movies on their laptops, and there is even free wi-fi.
Next time, it would be fun to get some friends together, Tony can play the guitar, William can bring games and play Settlers all night…we don't even need the 52 free meals to have an excuse to camp out in the parking lot of Chick-Fil-A.
One Response to "Chick-Fil-A 52 free meals"
Mike Says:
August 7th, 2008 at 7:37 pm

Got my free sandwich and a coupon for a deluxe sandwich a week before the Grand Opening and no lines.
Leave a Reply