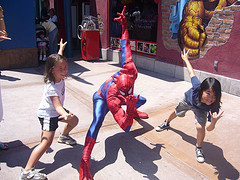 Where else can you strike a cool pose with Spiderman except at Universal Studios? We even got his autograph!
Pictured here with Spiderman is my niece Sami (left) and Amy. We were there at Universal Studios on Thursday. The waterplay area got the kids soaked, perfect for a hot day of over 90 degrees. The Jurassic Park river ride got the rest of us wet too.
The King Kong part of the tram tour was not in operation. That was most disappointing.
Other than that, it was a great day.
2 Responses to "spiderman live"
emme Says:
August 16th, 2006 at 3:41 pm

ahh!!
haha. cute picture. ;D

Mary T Says:
November 15th, 2006 at 12:59 pm

Hello, Is Spiderman at the Universal Studios in So. Cal. also? I thought he was only in Florida. Thanks much, Mary T.
Leave a Reply