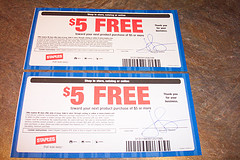 Staples coupon
Originally uploaded by
miketklee
.
This is a rather interesting incident:
I ordered a set of tab dividers from the local Staples because they didn't have it in stock. It was suppose to be delivered to the store the next day. They will call me when it comes in.
Two days passed and I haven't received a call. I called them, and they said they didn't have it. They suggest I call the 800 number, Staples shipping place I suppose, to see if it's been sent. I was thinking the store should call instead of asking the customer to call, but that's alright, I'll call so I can reorder it if I have to.
The central Staples place said it has been sent. In fact the manager of the store signed for it. Shannon, the very nice lady on the phone with me, asked me to hold while she calls the store for me.
A minute later my cell phone rings; it was Shannon! My cell phone number was on the order form. She thought that was the store number. "Oh, I have you on hold on the other line! Keep holding and I'll get back to you."
Shannon found out that the manager who signed for the delivery was not in that day, but I can go there tomorrow and he should have it.
"And for all the inconvenience, I'm sending you a $10 coupon to use at Staples." The item I order only costed $1.49!
So the next day, I call John the manager. He went to look for the item, and 30 seconds later, he came back on the phone and said it was sitting right on top of the front counter the whole time. I could've picked it up yesterday. I asked him about the $10 coupon that Shannon was suppose to send to me but I didn't think she had my mailing information. Only the store address was on the order. He nicely said he can give me the coupon, pictured here.
The main part of the story is this: I bought the tab dividers, along with a notebook and refill papers to give to one of my Bible Study members. I spent $10.69 total. At the time, I thought, gee, this stuff is expensive!
Well, here, God gave me back $10.
Leave a Reply